GOLFZOO ITINERARY

Golf

Thursday October 6: Aviara Golf Club (10:00am)

    Annual Host Course for the LPGA Tour

    Formerly ranked by Golf Digest and Golfweek

    Turquoise Tees; 6,340 yards; 71.4/132 rating/slope

Friday October 7: The Grand Golf Club (10:00am)

    #2 golf resort in Southern California

    Formerly ranked by Golf Digest and Golf Magazine

    Blue Tees; 6,258 yards; 70.9/129 rating/slope

Saturday October 8: Torrey Pines, North Course (10:00am)

    #93 Golf Digest Top 100 Public Courses, 2019

    #76 Golfweek Top 100 You Can Play, 2020

    Annual Host Course for the PGA Tour

    Green Tees; 6,346 yards; 71.5/125 rating/slope

Sunday October 9: Torrey Pines, South Course (8:00am)

    #36 Golf Digest Top 100 Public Courses, 2019

    #40 Golfweek Top 100 You Can Play, 2020

    Annual Host Course for the PGA Tour

    Host Course 2009 and 2021 U.S. Open

    Gold Tees; 6,153 yards; 70.7/129 rating/slope

Lodging

Four nights, October 5-8

Standard room with two double beds

Two golfers per room

Total estimate: $2,200

Details About Handicaps

As we have continued to talk about handicaps, the competition of our Opens has gotten better and better. The last three Opens have been the three closest top-to-bottom of all time! In 2020 we encourage everyone to have an official handicap (as the USGA and World Handicap systems have now united). For most members, we are recommending one of two methods to receive a handicap:

1) Simply maintain your GHIN handicap through your local club.

To see how Myscorecard works, go to the link, select the Features menu and click option "Handicap Lookup", and search for the user name trevere to see Trever's current index.

Social Time Agenda

Wednesday October 5, 6:30: WGA "Biennial Club Meeting"

Thursday, October 6: Brewery excurson 10 miles east of Aviara

Friday October 7: Brew pub group dinner after golf

Saturday October 8: Group dinner in La Jolla

    Any place we haven't gone and/or everyone wants!

Sunday October 9, 1:30: Concluding Lunch

YOUR Travel Itinerary

Arrival = Wednesday, October 5

We will all want to roll into La Jolla in the early-mid afternoon timeframe, to maybe get some relaxing resort time while we all gather. SoCal guys can easily drive of course, and assuming most likely flight options are into San Diego, it would be best to have the SoCal locals coordinate with flyers for airport runs. And remember that while there are plenty of west coast flights to San Diego, clubs fly free on Southwest Airlines.

Departure = Sunday, October 9

Wherever you are flying through, keep in mind that we will be done with golf at 1:00 pm-ish, then will have lunch together. The San Diego Airport is not a tough drive on Sunday afternoon, so given this timing we should be able to get everyone to the airport by 4:00 at the very latest, and thus evening flights should be good.

Those who are qualified and IN

Adam E*

Brent G

Brian G

Byron O

Dan T

Doug A

Mark T

Mike N

Peter M

Rob H

Steven S

Tony B

Trever E

* = Potential "official videographer"

Torrey Pines ... a U.S. Open course and one of the three greatest "true muni" golf courses in the United States

Western Golf Alliance Open 2022

October 5-9, 2022

San Diego, CA (Region A)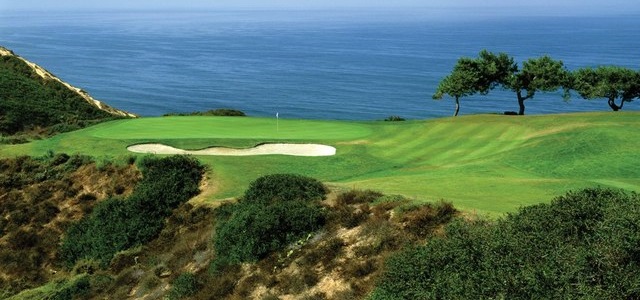 THE WESTERN GOLF ALLIANCE

Keeping It Long and Straight Since 2002™