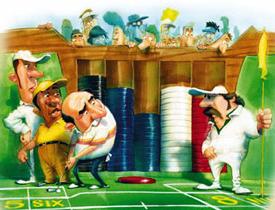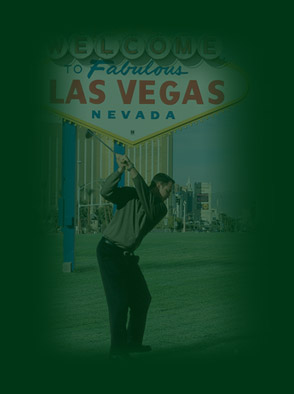 The WGA

Gambler's Shootout

Date: First Weekend of May

The WGA Tour Series annually starts with a bang at "The Shootout"!

Las Vegas is obviously a very popular destination for our members, and this location (Vegas, baby!) along with the anticipation of a new golf season creates a perfect storm, attracting participants from all WGA regions. The two-day tournament is played over 36 holes at Paiute's Sun and Snow Mountain courses.

In keeping with the spirit of Vegas, the format is structured to create a real gamble for all players. The scoring is match play, single elimination, with handicaps, but on day one the matches are VERY short - the first round matches are only 3 holes, and second and third round matches vary from 3 to 9 holes depending on the number of players ... so one bad break from Lady Luck and a favorite can be out very early. With the field weeded down, the second day allows for an 18 hole championship, while also encouraging players who have slipped into the "losers bracket" to pursue multiple on-course gambling scenarios and various side-games.

Tour Series Point Structure:

Champion = 200 points

Runner Up = 110 points

Third = 80 points

Fourth = 60 points

Fifth-Eighth = 50 points